Knife Owners' Gun & Knife Picture Gallery
Knife owners, thank you for emailing your gun+knife pictures to me!
I will do my best to make time and upload your pictures to this page.
Michael
California
1-3-2011
My wife and I ordered the new 1911 folding knife and gave it to my best friend Dave for Christmas. He has a 1911 Colt and was over the moon when he received his present.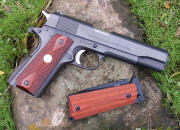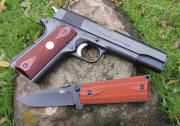 John
New Mexico
12-31-2010
I received the knives and I am very impressed. The design is excellent and workmanship is superb.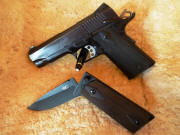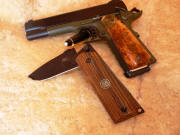 Chuck
California
12-28-2010
Wow, I had heard all about how beautiful this knife was, but until you see it in person the pictures do it no justice. I will want to order another one soon. I want to keep one set aside and the other just to use for everyday use.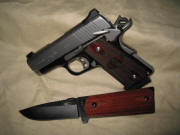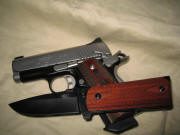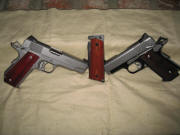 Mike
Arizona
12-22-2012
I received my knife today. Now that is one beefy knife. Love the grips.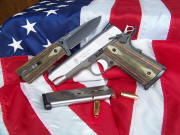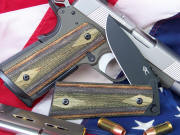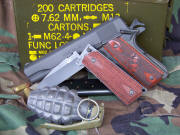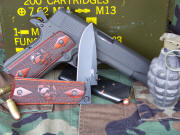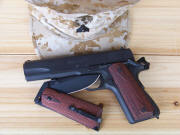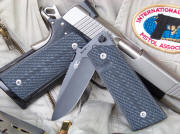 Mark D
California
12-21-2010
I received the knife today and let me say this is a beautiful looking knife and it fills the hand just right. This knife not only looks heavy-duty but it feels heavy-duty.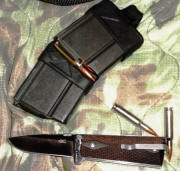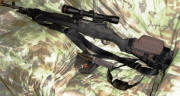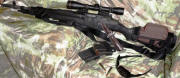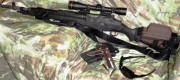 Torodd (2nd contribution)
Washington
12-20-2010
Sending some more pictures of the fixed blade now that my sheath is done.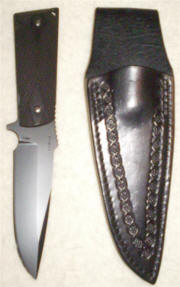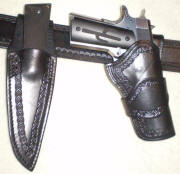 Terry: Nice rig! Maybe I should make my leather sheath similar to yours. It makes a lot of sense.





Steve
California
12-14-2010
I love the looks of the knife. Great feel in my hand and quality workmanship. The Hammerhead Lock system works. I don't see where it will ever slip.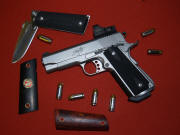 David
Colonel, Cavalry, USA (Retired)
Kentucky
12-03-2010
The Folding Compact M1911 Knife is much more than just a knife; it is a high-quality piece of art. Well designed and very well made, this knife is a pleasure to carry and operate. Terry, congratulations and thanks.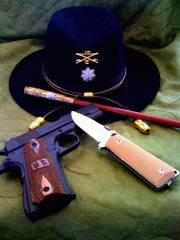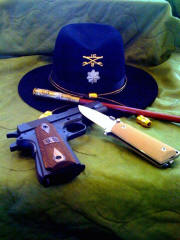 Mark (2nd Contribution)
Oklahoma
11-29-2010
I got my 2nd gen knife and it is awesome for sure. My digital cam broke so the only cam I have is my cell phone cam and it's not the greatest.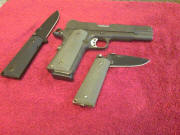 Terry: I also see the 1st gen folder you bought last year. It seems to have been carried and used a lot!






Danny
Ontario, Canada
11-25-2010
The knife arrived and I have to say I really do like it. I purchased your knife for show, not for field, it's too nice, in my opinion to be hacked up and abused, sorry, nice things I like to keep nice... ya know.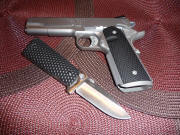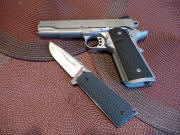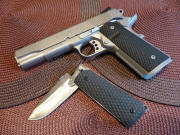 Craig


*** Winner - Picture of October, 2010 ***


Kentucky
10-17-2010
Your knife is something else. It is great. Thank you for the quality knife. I hope my pictures do it justice. My sons like the first one here the best.

The grips are great. I took your advice and gently filed an ambi-cut on the G10 grip.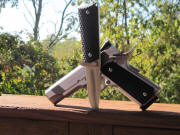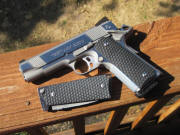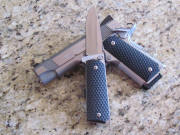 Ernie
North Carolina
10-12-2010
These (pictures) are not my best at all. You will get more when I get a matching set of grips. I want an Officer set for sure! Can't wait till they come in.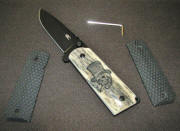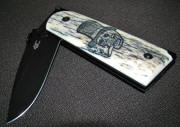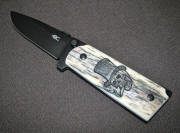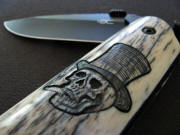 R.D.
Texas
9-23-2010
The knives are great. Here is a photo. I am not a good picture taker...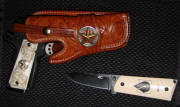 Steve


*** Winner - Picture of August, 2010 ***


Texas
8-20-2010
This is one of the nicest and most robust knives that I have ever bought. I especially like the balance and 'feel' of it in my hand, not to mention that I can change the grips on an "as needed" basis.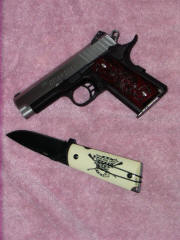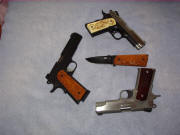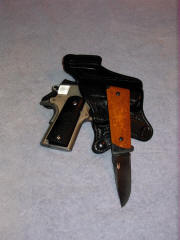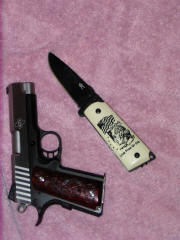 Mike
Vancouver, Canada
7-5-2010
Received and installed the new clip today. Must say it is a nice improvement over the original. Thank you for the great knives and superb customer service.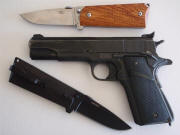 Alan
Florida
7-3-2010
In a dangerous world you need the right tool. This knife is of great quality and very well liked by all my friends, thank you.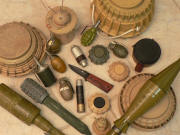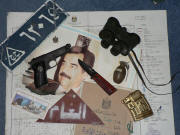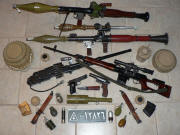 Terry: "Wow... You do live in a dangerous world!"






Mark
Florida
6-5-2010
This knife is so pretty I feel guilty using it. Great knife. Thanks for the great service.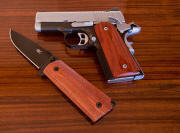 Ryan
Oklahoma
5-23-2010
Completely happy with my folder. A perfect match to my kimber.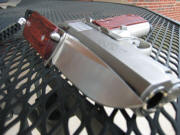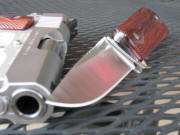 Dan
Ontario, Canada
5-23-2010
Here are pictures of my Colt Gold Cup National Match 45 ACP and the ebony grips you sent with the knife and with moose antler grips that I purchased at the NRA Convention a few years ago. Both sets look great.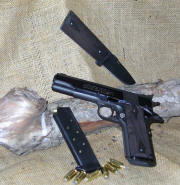 Chris
Iowa
5-12-2010
Here is a picture of my wonderful knife amongst a few friends! I love the knife! I gave it to myself for my birthday!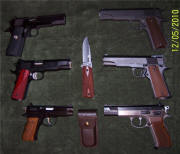 Wayne


*** Winner - Picture of May, 2010 ***


Washington
5-4-2010
Here are some pictures I snapped quickly –
Thanks for the great product!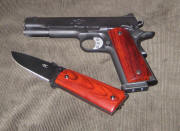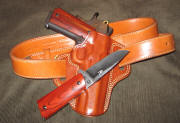 Gary


*** Winner - Picture of April, 2010 ***


Alabama
4-24-2010
I got the knife in the other week. Beautiful knife! I finally took time to stop playing with it and take a picture! Thank you for making such a great knife!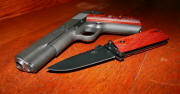 Oscar
Virginia
4-27-2010
Received the knife today. It is totally beautiful. It will be a birthday present for my son who turns 46 May 30th, and is a complete M1911 Nut. Am sending a couple of pictures for your collection.

The pistols clockwise from nine o'clock are, Colt M1905, the Grandaddy of the M1911, a Springfield M1911, A Colt Series 70 Gold Cup, a Hardballer, A Gold Cup upper on a Para Ord Hi-Cap lower and a Colt Officer's Model. I like 1911s too. The other is a Thompson M1928A1 surrounded by other .45 ACPs.

Hope you like my pictures half as much as I like your knife.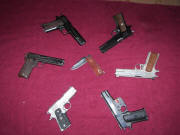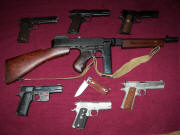 John H
Indiana
4-27-2010
Finally got my grips and took some pic's of the knife and my Ed Brown Kobra Carry and my Kimber Grand Raptor, I am not a very good photographer but it really looks good in person.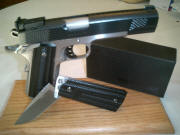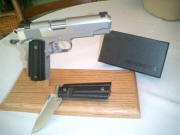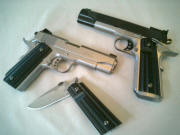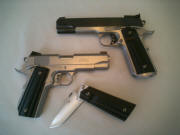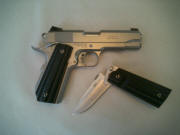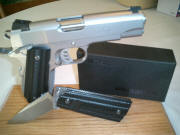 ToyCop
Michigan
4-23-2010
The latest pics I took without blood. :-)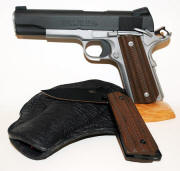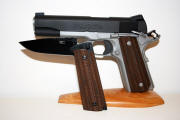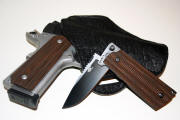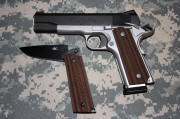 Mark
Oklahoma
4-10-2010
Here is a pic of my knife and my 1911.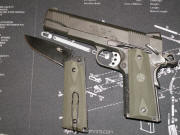 Doug
Virginia
4-11-2010

Received the knife. Fantastic. Couldn't be happier. It's become my new best, favorite knife.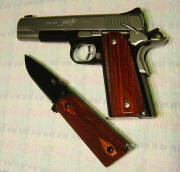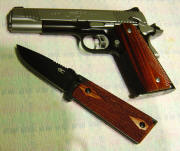 T
California
3-29-2010
Great knife. Here are some pics.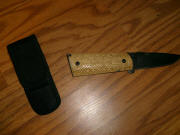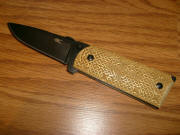 Wesley
Virginia
3-31-2010

I received the knives today, and they were beyond my expectations. The quality, the construction, and the feel are all top notch. Fit and finish is superb, and the blade is razor sharp to say the least. I would highly recommend your product to everyone.

Here are a few snap shots I took.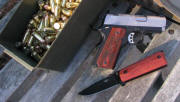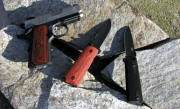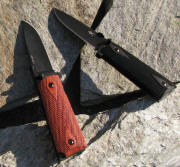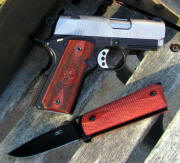 Stoneypete
South of Boston
2-12-2010
Just got mine in the mail today. Mayhaps I should get two more pairs of rosewood grips.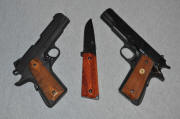 easy


*** Winner - Picture of December, 2009 ***


Ontario
12-6-2009
I purchased Terry's M1911 Folder mid November. Here are some photos and description of what I found to be an innovative, praise worthy folder.

Using 1911 grips on a knife isn't new, as I know of at least one maker that produced a fixed blade knife with 1911 grips, but a folder made as such and this innovative locking system I haven't seen. Coupled with a professional fit and finish, Terry has brought a very nice toy to market.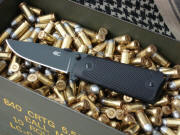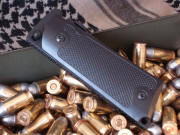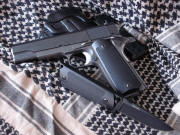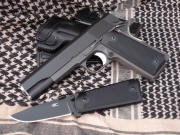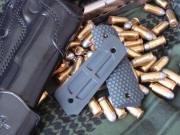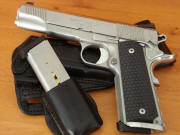 glengary
12-9-2009
Got mine today.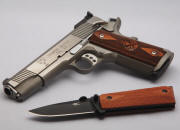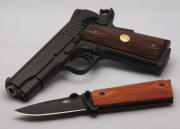 Ozark Guy
12-5-2009
Pardon the photo skills, my art student son is in NYC today...

I am very pleased with the knife. Really nice. Sons both want one now...sheesh, can't the old man buy one toy for himself.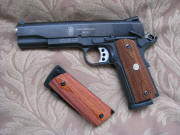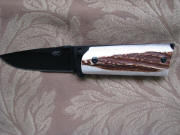 handgun921
12-4-2009
Here is the new M1911 folding knife that I just recieved. I have already changed the grips to match my Longslide and the knife is great.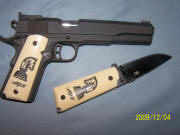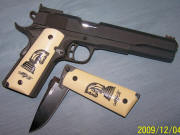 1911loaded
Aston, PA
12-8-2009
Pics of my SA 1911 with the ultimate M1911 knife. I love the look of the Southeast Asian Blackwood ...it looks awesome with the SS 1911..i think i made a great choice...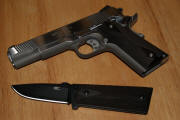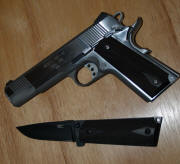 NAA
11-19-2009
These M1911 knives are even more awesome in person! I ordered a pair & am glad I did. They look very cool with USGI brown plastic grips and slotted grip screws, too.
Pictured here with my real deal 1944 mfg Remington Rand USGI 1911A1: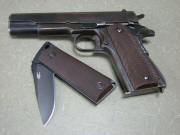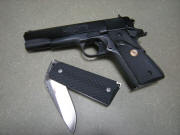 Mike
Arizona
1-6-2011
The main reason I ordered your great knife was to add a "barbeque knife" (the one you bring out at the BBQ to show your friends) to my "barbeque gun". I got a set of amboynas burl grips for Xmas to match those on my gun.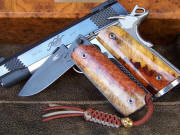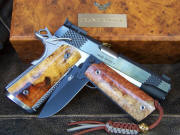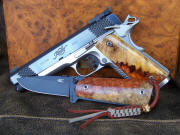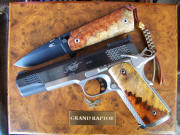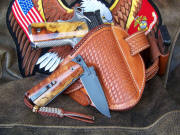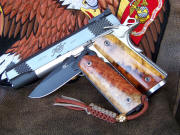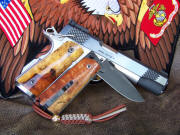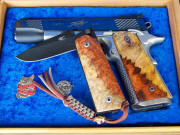 Joseph
Texas
1-3-2011
The knife looks great and I carry it with me whenever possible.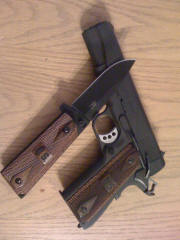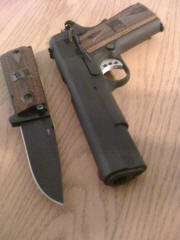 Paul
California
12-30-2010
Just received my gun back from re-finishing.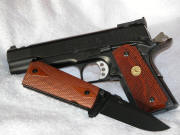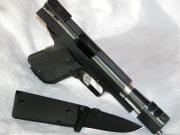 Shane
Tennessee
12-24-2010
I received my custom knife today and I couldn't be happier. I have to say I'm extremely impressed with the workmanship and the care taken in packaging the knife. The two-tone combination came out perfect and looks great with my Kimber. I look forward to putting it to work.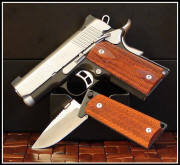 Dan
Wisconsin
12-23-2010
Very nice knife and design!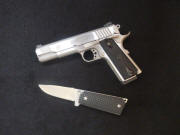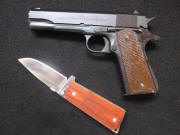 Robert
New Hampshire
12-22-2010
Love the knives!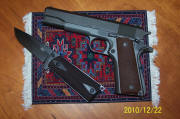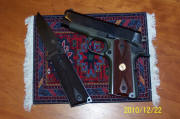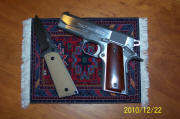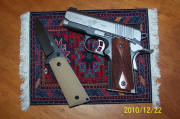 Mark L
Minnesota
12-22-2010
My wife gave me a great Christmas gift this year. She must have been excited for me as she gave it to me as soon as it came in! I love it. Beautiful artistry and precision machinery in one. It may be too pretty to use, but when I do, I'm sure it will last for generations.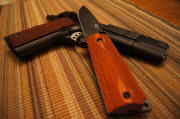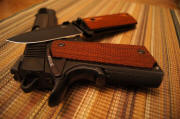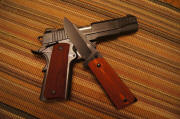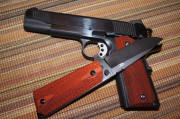 Steven
Pennsylvania
12-21-2010
Just got the knife. It's great! Thank you for installing the slim bushings and doing the blade in a polished S30V. This knife has a very solid lock up, the blade runs true down the center of the frame when closed, and the open close cycle is very smooth. When closed the blade is held in with significant spring tension. By the way, the back spring locking mechanism is massive! Nicely over built, it looks like it would never fail. Grind and polish are all first rate.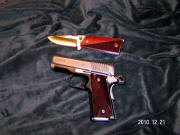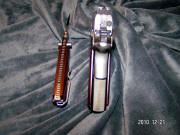 Victor
California
12-19-2010
I took several pics of the knife with my 45 cal black powder percussion pistol. I figured you've got plenty of pics with "normal" 45s, lol. Knife has Colt grips on it. I also polished up the screw heads so they look real purty.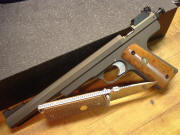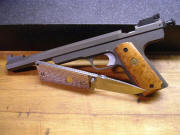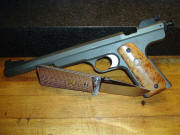 Alex
Quebec, Canada
12-13-2010
Hope you like the pic (first gen folding knife)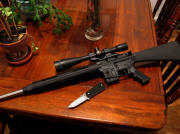 Jeffrey
Colorado
12-02-2010
I received the Gen II knife and I am very pleased. I fitted a set of sambar stag scales to the knife and they fit perfectly except that they are too thick for the pocket clip.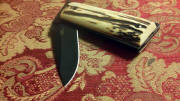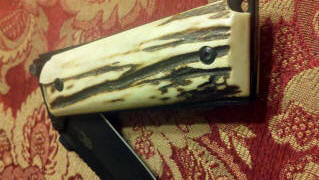 Torodd
Washington
11-29-2010
I got the fixed blade today. Looks good. Very happy :-)
Sending you a couple of pictures. More will arrive as soon as I get my 1911 rig completed.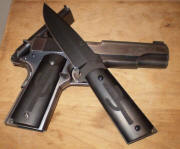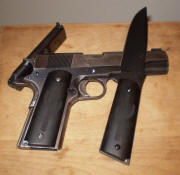 Ernie (2nd Contribution)

*** Winner - Picture of November, 2010 ***

North Carolina
11-16-2010
I love the looks that knife can pull off, and to be so damn sharp and deadly it's wicked. These shots were taken and thought you may like to see them or pick through.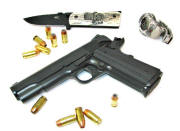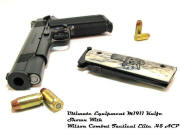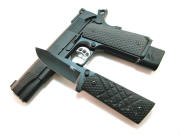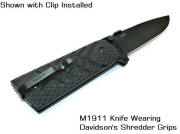 Drew
Idaho
10-19-2010
I picked up the knife at the post office yesterday. It's definitely a winner! I'm very pleased with it and I can see that it'll be on my belt for some time to come. Here is a picture of the knife with the grips that I ordered from Springfield to complement my 1911.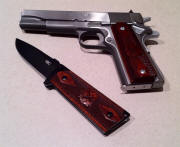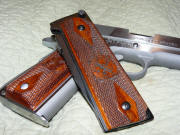 Gary
California
10-13-2010
In comparing the two knives, 1st & 2nd generation, all the improvements, from the blade to the Hammerhead to thumb blade release are all fabulous. I want to grade you with an A++ for a job well done on both the old and new knives and also great communication and quick shipment.

If my wife will allow it, I am looking forward to the fixed blade, ha ha.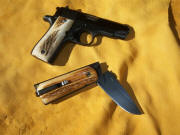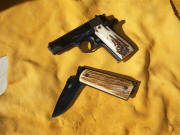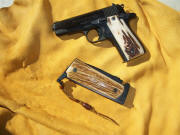 Larry
Georgia
10-10-2010
The 1911 is a full size Rock Island Armory. I really like the knife. It exceeded my expectations. Thanks for a great product.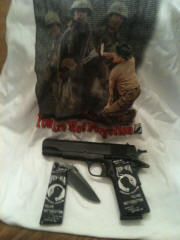 Mike
Indiana
8-2-2010
I have purchased 3 of your knives...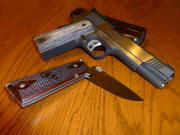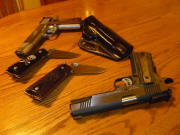 Wayne


*** Winner - Picture of July, 2010 ***


Oklahoma
7-4-2010
Your M1911 knife is one of the few knives I have seen that will shave right out of the box~!!
I didn't need to sharpen your knife like I must do with some many others.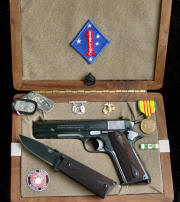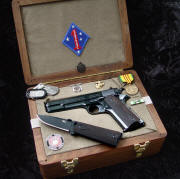 Mr. Spectacular
Alberta, Canada
7-5-2010
I received my knife this morning and am very happy with it, thanks.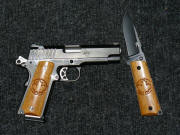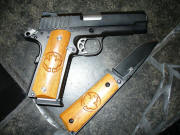 David
Alberta, Canada
7-2-2010
This is a preliminary pic of my Norinco and one of your knives with my grips on it. I didnt have a pic of them together yet, but did have a pic of each separate.







Paul
Texas
6-15-2010
Here are a couple shots of your handiwork in the hands of another very satisfided customer.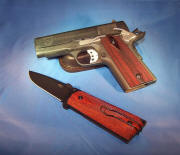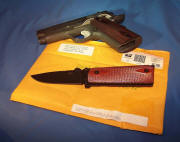 Manuel
California
5-22-2010
I just got the knife today. It's so nice and I am glad I ordered from you.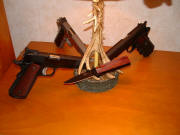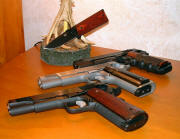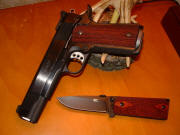 Joseph
New Jersey
5-9-2010
I took about 50 photos and my friends liked these the best.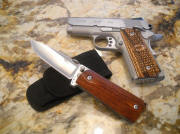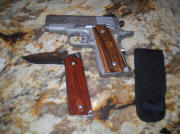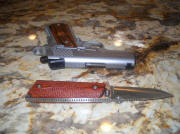 Bill
Missouri
5-3-2010
Very nice knife - I really like it.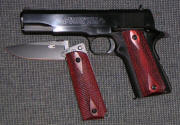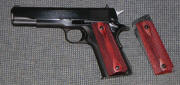 Joe
North Carolina
4-27-2010
Received the package today and sure was pleased!! Professional packaging and the quality of the knife locking mechanism is superb.

I installed ERGO grips on my 1911 knife. The same ones I had on my 1943 Remington Rand 1911A1 I carried in the US Army during my OIF deployments, similar to the one in my WW2 collection as shown.

Thanks for making a great quality product!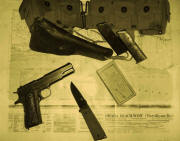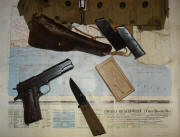 Doc540
Texas
4-28-2010
After a half dozen different grips, the Ultimate Equipment setup is the best yet.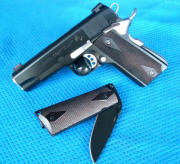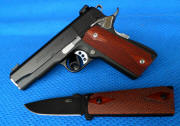 John B
Indiana
4-28-2010
Here is my picture of the Ultimate 1911 knife. In company with top to bottom, Auto-Ordnance government model, Israeli Arms commander, and Springfield micro compact.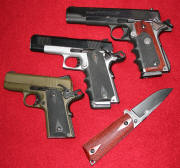 Nicholas
Connecticut
4-25-2010
I got the knife this week and I must say, I'm impressed with both the design and quality. I'm probably going to order another.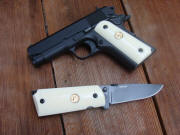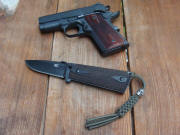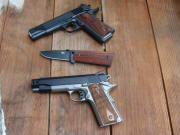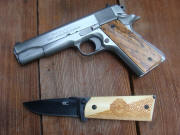 Gary
Maryland
4-30-2010
A Baer set.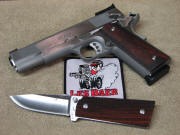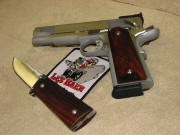 Lloyd (pictures taken by Paul Blankenship, Blankenship Custom Firearms LLC)
Georgia
4-15-2010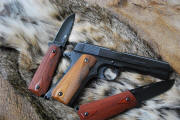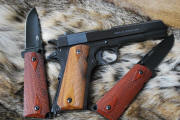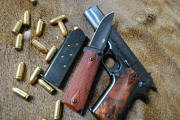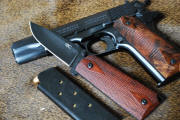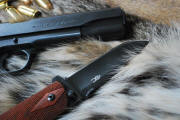 Okcorral1881


*** Winner - Picture of March, 2010 ***


Canada
3-29-2010

I really like the grips with the thumb depression, it helps to open the knife.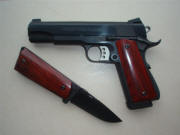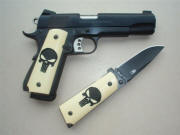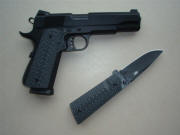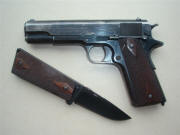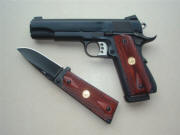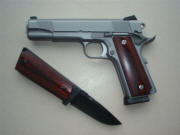 Mike
1-5-2010
Here is a picture of my Colt Combat Commander and your knife. Both are wearing custom black micarta grips with gold Colt medallions.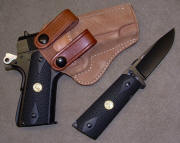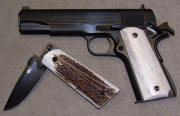 84B20
New Mexico
12-19-2009
Got it! And really fast as well. The Post Office wasn't even as accurate in the tracking prediction as Terry was. I attached the clip but because he included two types of cases I'm torn between how to carry it. Right now it's the clip.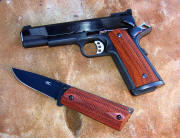 ToyCop
Michigan
12-18-2009
My grips arrived. I even included my own personal "idiot mark" picture from the day the knife arrived.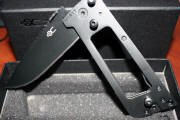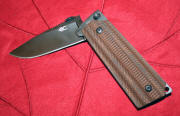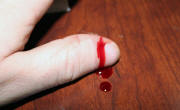 I'm sorry to see that blood was drawn. Guys, please be careful with the blade. - Terry






hero5211314
12-12-2009
I've got my!!! AWSOME
Here is my COMBO!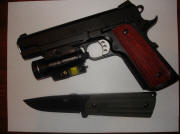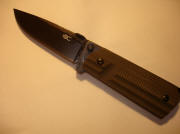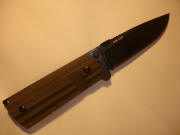 a1acp
Hawaii
12/8/2009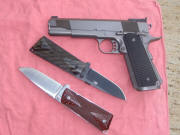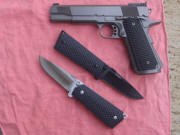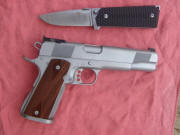 WhitleyStu
12/2/2009
I received my satin 440C 1911 knife today and am very pleased. As has been stated the knife is excellent in fit and finish. There is no blade play at all and lockup is perfect. The packaging is so nice I will have to save it. Highly recommended!!!
Thanks,
Stu

Satin finish 440C with VZ Operator grips & polished screws (and poor lighting)...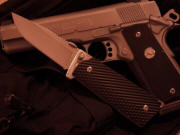 wtfd661
11/23/2009
Received mine also.
Very nice knife!!!!!!!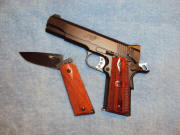 Surfer365
11/12/2009
I got mine today. Thanks Terry!! Thought I'd post a couple pics, I got a spare set of grips to match.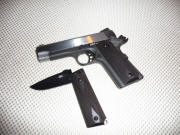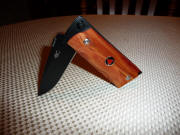 Thanks, Surfer365, for being the first customer to post pictures. - Terry